Things got pretty quite around here. After I released a batch of 7 demos, my intention was to record another set. Unfortunately, my endless bought with tendonitis reared it's head, and I was out of commission for an extended period.
Rather than going back to releasing demos, I've decided to skip ahead and start recording actual versions of the songs and release an actual record. To that end, I have set up a "micro studio". While the demos were recorded in my camper with limited gear, the micro studio will allow more flexibility in the production. If you follow my camper life at CamperGeek, you will recognize the space, as it spent last winter as my RoboGarden.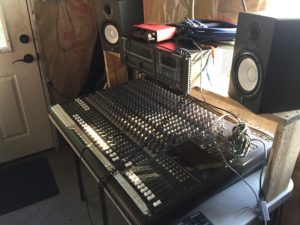 I have always referred to my collection of recording gear as "Vagabond Studios", as it has traveled around Boston, Maine, and Vermont over the last several years.
Yesterday, I began production with some drum tracks. Barring any more tendon setbacks, I hope to have some significant progress over the next few months, culminating in an album release on BandCamp this winter. A CD pressing may follow that depending on funding, feedback, and demand.